What's on >
Hurvin Anderson: Salon Paintings
26 May – 5 November 2023
Exhibition entry is £12 / £10 / FREE for Members, Wakefield District residents and under 18s. Ticket includes entry to all our gallery spaces on the day of visit.
Book Now
'One of Britain's finest living painters' ★★★★★ The Telegraph
'The opportunity to see the evolution of Anderson's exploration of the barbershop setting in one space is exceptional' ★★★★★ The Guardian
One of the 'best art exhibitions to see in Europe and the UK this summer' The Times
Hurvin Anderson (b. 1965) first painted a Birmingham-based barbershop in 2006. Over the last 15 years, Anderson has repeatedly reworked the same barbershop in a multitude of ways to explore key painting styles, shifting from figuration to abstraction, and experimenting with the classic genres of still life, landscape and portraiture.
The Salon Paintings exhibition focuses on the Barbershop series as a lens through which to understand Anderson's wider practice and key concerns of memory, identity and nationhood.
The exhibition displays the most comprehensive presentation of the Barbershop series, from the very first work made in 2006 to the latest paintings, Skiffle, 2023 and Shear Cut, 2023, created this spring which culminate the series. Anderson's studio drawings and related sketches are interspersed throughout the exhibition revealing the subject matter of the barbershop as one that has sustained his approach to experimentation over the past 15 years.
Alongside the Salon Paintings exhibition, Anderson has curated a display of works that will take visitors on a journey through his formative influences. This personal selection offers a unique insight into what informs and motivates Hurvin Anderson's approach to painting and includes work by Michael Andrews, Francis Bacon, Patrick Caulfield, Prunella Clough, Duncan Grant, Denzil Forrester, Claudette Johnson, Leon Kossoff, Keith Piper and Stanley Spencer.
'I am looking forward to unveiling the final works in the Barbershop series at The Hepworth Wakefield. The Barbershop is a subject that I have returned to throughout my career, as a site that was a point of connection to Caribbean culture. In repeating the image, deconstructing it and putting it back together again, the series has also become a meditative exploration of painting itself. Presenting this series alongside Hurvin Anderson Curates feels like the perfect moment to pause and reflect on how I reached this point, considering influences, references and conversations with British painters past and present'. Hurvin Anderson
Shop
Become a Member and get 10% off (excludes editions)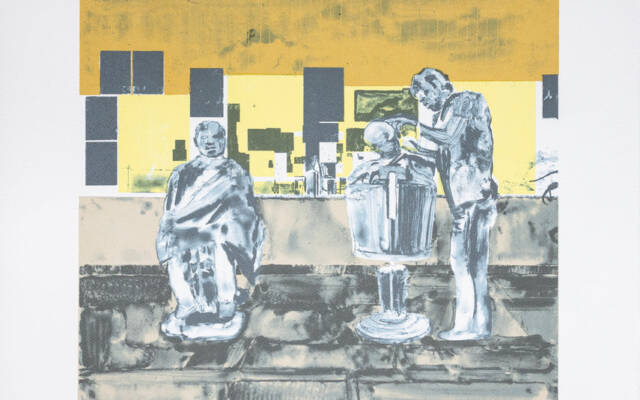 Become a Patron and get an exclusive 10% off artist editions
Events
Sat 4 Nov, 12 – 1pm, £15.50 / £13 Student / £5 Member - Exhibition entry included
Join Hurvin Anderson and Clarrie Wallis, Director of Turner Contemporary, to explore the Barbershop series in depth.
Book now
Exhibition supported by:
Thomas Dane Gallery
Michael Werner Gallery
De Ying Foundation
The Garcia Family Foundation