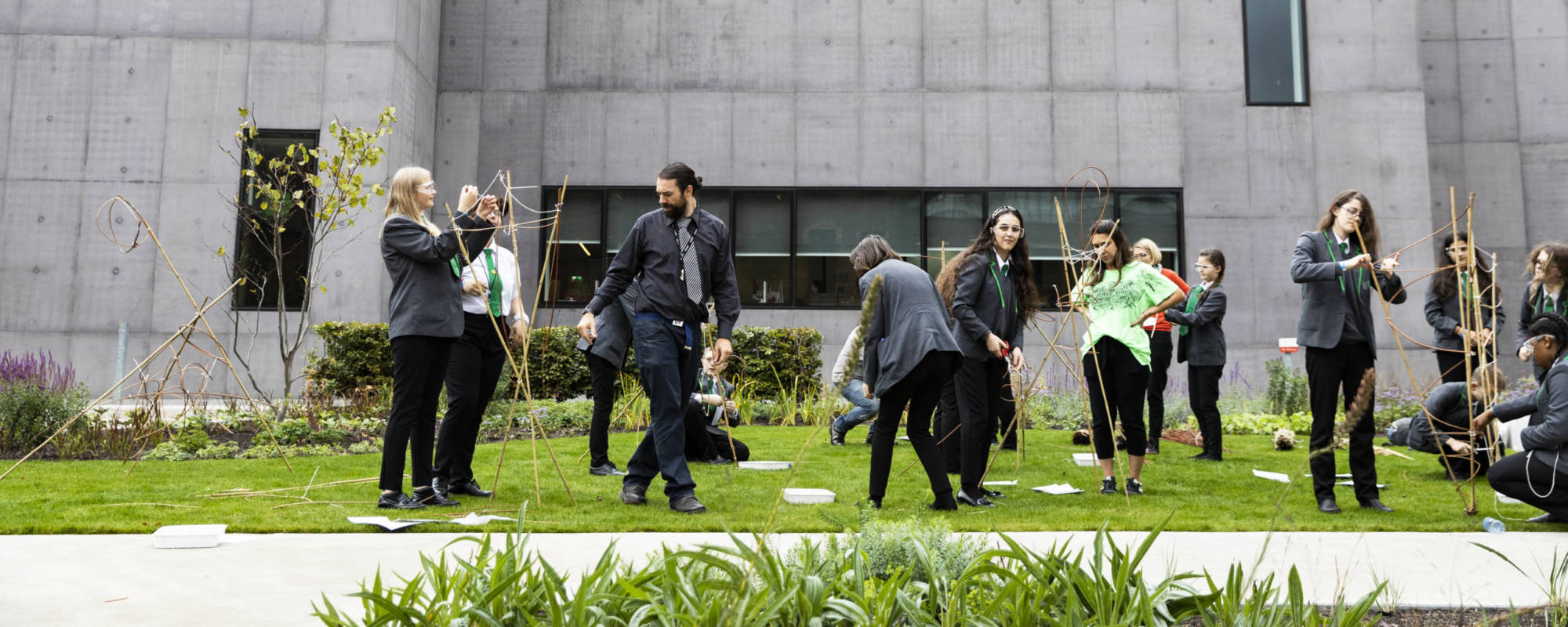 Burberry Inspire - Year 2
During the second year of Burberry Inspire The Hepworth Wakefield worked with 1000 key stage 3 students from Dixons Unity Academy and Leeds East Academy.
Exploring the theme of 'Inspired Journeys' students worked with our Artist in Residence across a series of gallery visits, in-school projects and creative workshops and after-school clubs to experiment with new processes and techniques in art and photography.
"The students have loved it and, despite the disruption to the school year, I am proud of our partnership with [The Hepworth] this year." Danny Carr, Principal, Dixons Unity Academy
During the Covid-19 lockdown, students were supported to engage in art and creativity while learning from home. Students continued to connect with practising artists through weekly artist-led films and activity sheets that explored a range of accessible, creative activities using materials from around their home.
An amazing 7000 students in 14 schools across the two countries have taken part in Burberry Inspire this year!
Cultural experience days
During nine cultural experience days at the gallery, students all participated in three artist-led workshops exploring and responding to different exhibitions. For nearly three quarters of the students it was their first visit to an art gallery. They spent time in the galleries looking, drawing, and thinking critically about the artwork.
They then took part in a range of creative workshops introducing them to new processes and techniques including collaborative sculpture making, mixed media, printmaking, willow weaving, experimental painting and felt making.
"There are lots of interesting pieces of artwork that look like nothing I've seen before. I enjoyed spending time looking and drawing them." Dixons Unity Academy student
"I feel happy because I have accomplished something. It's been challenging, exciting, inspiring." Leeds East Academy student
Artist in Residence
Artists from The Hepworth Wakefield were based in both schools, working with students over a series of creative projects. Students engaged with artists during five different six-week programmes of artist-led workshops, focussing on the creative journey from 2D-3D.
These workshops gave students new experiences with materials and processes not explored regularly in school. Students experimented in playful mark making and printmaking sessions, building confidence in their skills and creativity. They also developed their material literacy, using materials like plaster, alginate, wire and clay for the first time and manipulating everyday materials like paper, cardboard and fabric into sculptural forms.
"Working with the artists has taught me to have confidence in my skills."
"Art is my favourite subject now. It makes you think harder than any of the other subjects".
"The project taught me to be creative and have fun – it was exciting learning new stuff"
Dixons Unity and Leeds East students
In Dixons Unity, we also worked with their Hub students (part of their internal exclusion) delivering 16 tailored artist-led workshops. These students thrived in the creative atmosphere and enjoyed the opportunity to try new things and work extensively with the artists.
"Being in there with the students and seeing their engagement and creativity was really inspirational and for some of the students and our staff in the academy quite moving."
Ms Alderson-Jagger, Head of Creative Arts, Dixons Unity Academy
After-school clubs
Students from both schools worked with artists during after-school club sessions to explore what art means to them and how they use it as a tool to express themselves and their emotions. Advocating for the importance of the arts they created printed statements on banners to be hung in school, including:
Express your emotions through art
Art can tell stories
Art sets you free
Art is everywhere
Directed by the students interests, artists facilitated playful sessions experimenting with light, sound and photography, working towards a collaborative light and sound artwork.
"In this club I don't feel like everyone is watching me, it's a nice feeling to be able to be myself more. I don't get that in school."
"This has changed the way I draw – I used more feeling and was free to express myself. It was really different to what I usually do and I enjoyed that."
After-school students from Dixons Unity and Leeds East
Learning from home project
To support students to continue their creative journeys while learning from home during the Covid-19 lockdown we developed a six-week project with bespoke artist-led films and accompanying activity sheets. Students continued their connection with practising artists as they explored a range of accessible, creative activities using materials from around the home.
"Thank you, these are really great tasks suited to home learning. I will definitely be using this as a resource for pupils." Art teacher, Castleford Academy
The weekly art activities built on student's skills and knowledge, initially experimenting with noticing, recording and mark making techniques through sketchbook studies and thumbnail sketching. They were then introduced to 3D activities creating assemblages and sculptures to develop their visual literacy and sculptural understanding. In the final week, students created their own mini-exhibition at home to celebrate their work and reflect on their artistic outcomes.
As part of our global collaboration with Burberry Inspire partners in New York, each week connected with an activity from Studio in a School.
A New York artist delivered one of the weekly films for Yorkshire students and the project became part of a digital exchange, with New York students viewing Yorkshire artist-led films and vice versa, giving students the sense they were part of a global community with shared experiences.
"Feedback from the students has been extremely positive. What they have liked is the variety of work and seeing that friendly face talking them the activities to the creative outcome.
We like it so much as a digital platform it is something we are going to be incorporating into our teaching and learning next year and beyond."
Head of Creative Arts, Dixons Unity Academy
Find out more about Burberry Inspire