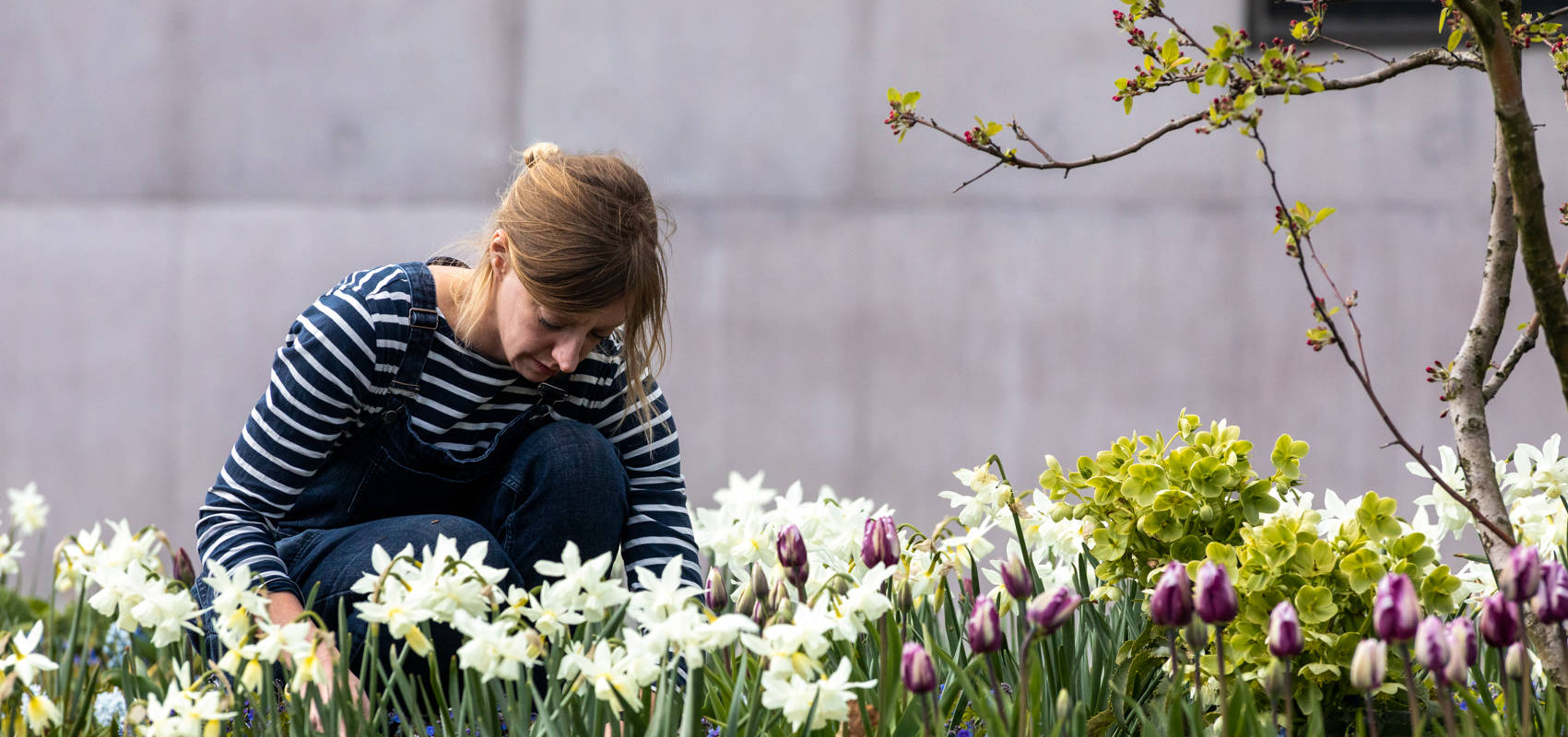 Help Katy care for The Hepworth Wakefield Garden
We transformed an unused strip of land into a beautiful flower-filled garden that's free for all to enjoy. We now need your help to ensure it continues to be an urban oasis.
As a living composition, the Garden requires daily care and attention from our Cultural Gardener, Katy to help it grow and develop. Each season brings its own challenges, whether it is cutting back the perennials, lifting, editing and dividing plants, or planting tens of thousands of bulbs. In October 2019 Katy worked with students from Wakefield College to plant 9,000 tulip and daffodil bulbs, the following autumn we were awarded a grant from the Finnis Scott Foundation to buy a further 50,000 spring bulbs, which Katy and a small team of volunteers planted in October 2020. In January 2021, Katy planted over 10,000 snowdrops across the garden. These are just a few examples of the mighty tasks Katy takes on in all weathers to keep the garden fulfilling designer Tom Stuart-Smith's vision and year round interest for our visitors.
If you are able, please support this work. Any donation, no matter the size, makes a real difference. Donate now to help maintain The Hepworth Wakefield Garden.
You could also help by purchasing our Guide to The Hepworth Wakefield Garden
Registered charity number: 1138117
Thank you to all those who have already helped us transform our site.
'The Hepworth Wakefield Garden has been one of the most exciting projects of my working life. It goes to the heart of what I have always wanted to do, to make beautiful places that people can enjoy freely – in every sense of the word; you don't have to pay to get in, no one is going to tell you to keep off the grass, there are places to wander, to laze in, to sit and chat or simply to look at the plants and sculptures and it's all done to a really high standard.
By reaching out and taking care of public space in such a wholehearted and creative way, The Hepworth Wakefield is blazing a trail where others will follow. The heavy lifting of the garden making is done, so now the fun bit starts and it is wonderful that in The Hepworth Wakefield's Cultural Gardener, Katy, you have an inspiring and creative individual to make it all happen. Please give her and The Hepworth Wakefield Garden all the support you can! Thank you.'
– Tom Stuart-Smith
Find out more about The Hepworth Wakefield Garden